Mini Wireless Dual-band Hair Removal
A powerful, lightweight, rechargeable, and completely portable hygienic hair removal device.

Three modes available

Cordless charging

Cleaning base
CORDLESS, SAVING YOU VALUABLE TIME AND SPACE
VENUS PRO SIX MODES & MULTI- BAND FILTER HEAD
This device can Intercept the dual wavebands of the pulsed light for hair removal and skincare purposes, filter out ineffectual wavebands, target the skin chromophores, so as to remove hair from deep and superficial follicles in a quick and painless manner.
MAKE YOUR SKIN SILKY IN 6 WEEKS
VENUS PRO SIX MODES & MULTI-BAND FILTER HEAD
Designed with comfort and luxury in mind. Features a sleek matte exterior and a champagne finish for the ultimate at-home spa experience. The 180° rotating head and the mini-LCD touch screen make it easy to use. Simply slide to turn on the device.

Professional care for beautiful skin
Professional care for beautiful skin
Effective and precise hair removal with no damage on the skin
3 modes + Levels 1-6 = long-lasting effect + no extra skin damage Intercept effectual and skin-friendly wavebands


WHOLE BODY MODE
FACE MODE
PRIVATE MODE
AUTO-FLASH (TOUCH)
MODE SWITCH (TOUCH)
ENERGY LEVEL SWITCH (PRESS BRIEFLY)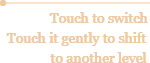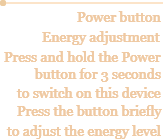 Dual light wave filter
Take off and protect in one, don't hurt the skin
Dual light wave filter
With precise light giving-out Customized for hair removal of small skin areas


Unbounded "line" for hair removal
Newly introduced cordless mode, Break the space constraints, whether you are traveling for a long time Or you can enjoy the freedom of hair removal anytime and anywhere in the car.


FAST AND CONTINUOUS FLASHES IN 0.9 SECONDS
Removal of body hair in 10 mere minutes

QUICK RESULTS IN 2 WEEKS SILKY SKIN IN 4 WEEKS
WEEKS 1-2
(THRICE PER WEEK)
HAIR VOLUME REDUCE BY 80%
WEEKS 3-4
(TWICE PER WEEK)
HAIR THINNING OUT
WEEKS 4-MORE
(ONCE PER MONTH OR PER HALF MONTH)
SELECTIVE USE LONG-LASTING EFFECT
*After testing, 400000 flashes can be used by hairy people for a long time
Charging/ Cleaning Base Cordless design
Charging in sync with cleansing UV radiation for disinfection of up to 99.9%, bacteria in 10 minutes only Safe & clean.
2-In-1 Disinfection and charging
Includes blue light disinfection charging base, so it disinfects while charging!
It only takes 10 minutes to clean your hair removal device of 99% of the bacteria and viruses. Through our innovative sterilization technology, your hair removal device will always look new.
Innovative Global Personal Care Brand
Certifications of Global Reward
Accurate, safe and efficient
Hair removal takes effect quickly, does not damage skin.


European Union CE marking
Food and Drug Administration
Korean KC Certification
Federal Communications Commission
Product Safety Electrical Apliance & Material
European Union WEEE
Restriction of Hazardous Substances Directive
Nationaler Standard
CQx Mark Certification
SGS China
FAQs
What is the basic principle behind hair removal?
We have all experienced those dark spots, stubble, and other unsightly scenes caused by remaining hair follicles after unsuccessful traditional hair removal methods. JOVS Hair Remover uses intense pulsed light(IPL) technology to isolate the melanin in the hair resulting in the hair becoming thinner and softer until it naturally falls off completely, leaving you with more complete and permanent hair removal.
What is intense pulsed light(IPL)?
IPL technology is a beam of light that converts energy to heat that is absorbed by the pigment in the hair, gradually preventing the hair from growing. The gentle beam of light is safe and painless, and with Skin Rejuvenation (SR) your skin ends up looking smooth and delicate.
How to use this remover?
Use the JOVS hair remover in just two easy steps. First, shave the hair off the surface you want to treat. Second, press the device against the skin to emit a gentle pulse of light to the hair root(twice on each treatment area). Use it three times a week for the first two weeks to slow hair growth and twice a week for the 3rd and 4th week to achieve permanent hair removal. After the treatment period, JOVS can be used once a month to do any touch-up that may be needed.
Are there any side effects?
There are no side effects. Adopting the US high-intensity pulsed light (HIPL) technology, this hair remover is used with JOVS optical filters, which can filter out all useless light such as ultraviolet rays, allowing useful light to reach hair follicles and eliminating any light-induced side effects which might harm the skin.
What countries can you ship your products to?
How does your product compare to other hair remover devices on the market?
Our product has been hailed as one of the safest and most effective hair removal devices on the market with ten international safety certifications. The flexibility of the 180° rota-table head makes hair removal easy, and the various optical filters allow for more precision treatment without harming the skin.